The City of Belmont is working alongside Charlotte Water every step of the way on this regional project. We want to ensure our residents continue to receive excellent, undisrupted wastewater service. Charlotte Water, as part of the Stowe Regional Project, is partnering with the City of Belmont to replace the existing Belmont Wastewater Treatment Plant with a new pump station and wastewater pipelines. Through this work, Belmont's wastewater will be able to travel to Charlotte for treatment, providing more efficient wastewater service and meeting the future wastewater needs for communities in northwestern Mecklenburg County and eastern Gaston County.
This partnership will allow the City of Belmont to provide more cost-effective and environmentally-conscious wastewater management services to our residents and customers, while also ensuring that we have the necessary infrastructure and treatment capacity to manage wastewater services as our region continues to grow.
Bemont's coordination with Charlotte Water will allow us to:
Decrease the number of places where wastewater is discharged to the Catawba River.

Reduce the cost of future wastewater treatment expansions or upgrades by taking advantage of inclusion in a larger regional facility.

Meet increasingly stringent environmental regulations by treating Belmont's wastewater at the state-of-the-art Stowe Facility.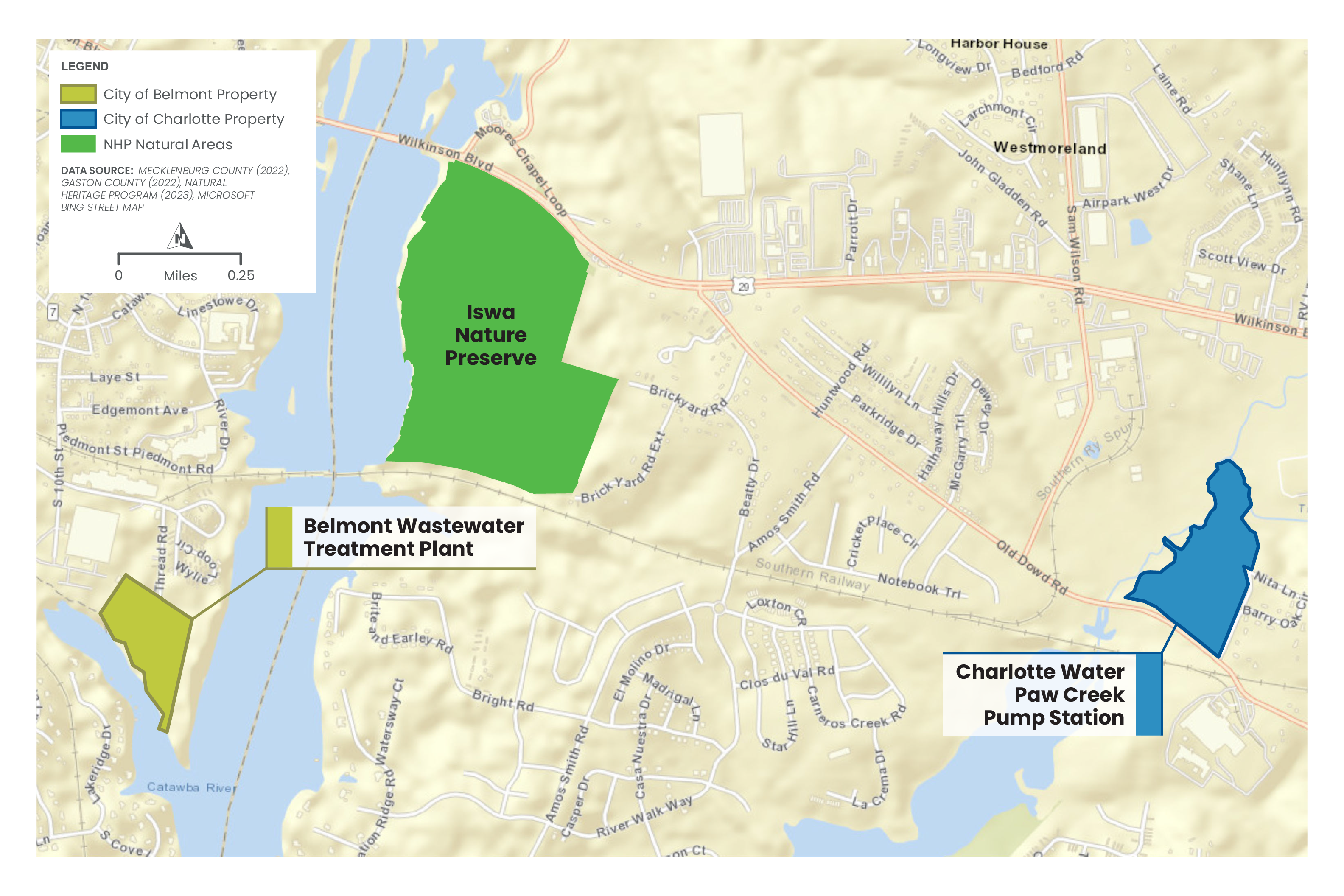 Belmont Pump Station and Wastewater Pipelines Project
The new Belmont Pump Station will be built at the site of our current Belmont Wastewater Treatment Plant on Parkdale Drive, allowing us to repurpose many of the existing structures.
This pump station will be connected to Charlotte Water's wastewater collection system at the Paw Creek Pump Station on Old Dowd Road in Charlotte. Underground pipelines will be installed connecting the new Belmont Pump Station to the existing Paw Creek Pump Station.
The future wastewater pipelines will be located deep underground in bedrock that is approximately 65 feet below the Catawba River, which is about the height of a 6-story building. We have already installed two of these crossing in Mount Holly to connect the new Mount Holly Pump Station to the Stowe Facility. You can learn more about the construction process on the Wastewater Pipeline Installation page.
STATUS: The design team is beginning survey work in March 2023 to help determine the best route for the new wastewater pipelines. Several factors are weighed when selecting the best route including existing land use, environmental resources and habitats, and the type of rock and soil composition.
NEXT STEPS: Once the best route is determined, we will identify properties where Charlotte Water needs a permanent easement or temporary construction easement agreement. An easement agreement allows use of part of a property owner's land for a specific purpose, after a legal agreement has been reached. Charlotte Water representatives will be in touch with those property owners to discuss the easement process.
SCHEDULE:
Design and Easements : Spring 2023 - Summer 2024
Construction: Summer 2024 - 2027
Learn more about how we are surveying the Catawba River in the video below!
Frequently Asked Questions