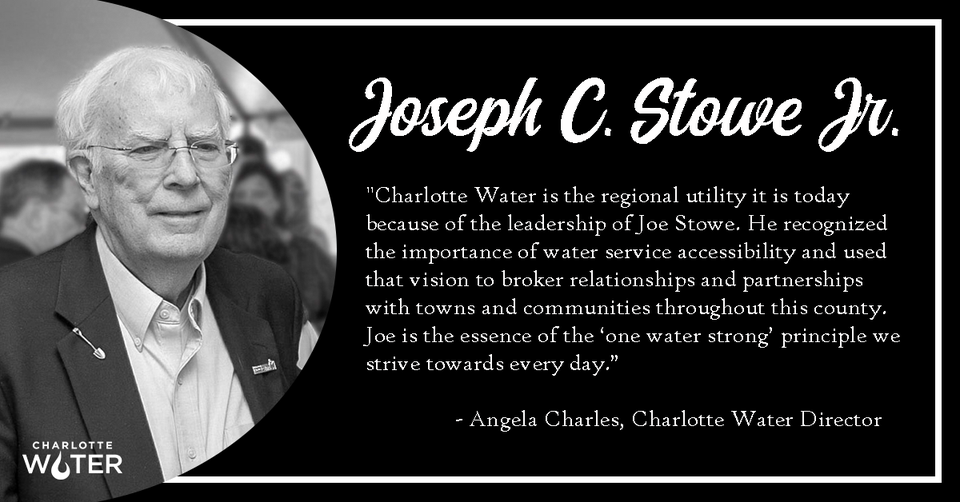 With heavy hearts, we recognize the passing of former Charlotte Water Director, Joe Stowe. Our deepest sympathies go out to his family during this time.
Joe Stowe was an integral part of the Charlotte Water family who embodied collaboration and innovation. That is why it made perfect sense to name a pioneering regional partnership project after him.
Joseph C. Stowe Jr. worked in the water and wastewater resource management industry for 53 years and is known as an innovative industry leader. Stowe served as the Director of the Charlotte-Mecklenburg Utility Department (CMUD), now known as Charlotte Water, and implemented many of the programs that are still in place today. He always emphasized the importance of providing exceptional customer service and worked tirelessly to ensure affordable water service extensions to encourage families to switch from well water. Stowe understood the importance of water service accessibility and implemented various accessibility policies and programs that are now used as model policies for cities and counties throughout North Carolina.
Stowe was active in water and wastewater associations and served as chair of the NC American Water Works Association-Water Environment Association (AWWA-WEA) and as president of the Water Environment Federation (WEF). During his tenure as president of the Water Environment Federation, Stowe led a successful partnership with the international non-profit, Water For People, which helps provide safe water and sanitation services to people living in poverty around the world. Stowe then served two terms on the leadership board of Water For People and was awarded the organization's Robert W. Hite Outstanding Leadership Award in 2013.  Throughout his career, he received numerous other awards and accolades including the American Water Works Association's George Warren Fuller Service Award and the Water Environment Federation's Charles A. Emerson Distinguished Service Award.
Stowe is well known as a career-molding mentor in the water and wastewater industry with an innate ability to recognize others' capabilities and help foster professional growth. Stowe continuously inspired others to do good work and gave his team the confidence to make an impact. Many of the leaders at Charlotte Water were given opportunities to advance their knowledge and careers by Stowe. He was a positive force of change and growth for not just Charlotte Water, but the Charlotte community as a whole.
After 32 years working for municipal organizations, Stowe entered the private sector and worked at both CH2M Hill and at McKim & Creed, where he provided strategic planning and management training to utilities. Stowe is often described by others as a visionary and an advocate, who spent much of his career and volunteered countless hours to enhance the lives of others by increasing access to safe water and sanitation.
Based on his lifelong dedication to and passion for the water and wastewater resource management industry, as well as the impact he has made on the Charlotte community, Charlotte Water along with its regional partners was pleased to name the Stowe Regional Water Resource Recovery Facility in honor of Joseph C. Stowe Jr.
The Stowe Regional Water Resource Recovery Facility, which was previously referred to as the Long Creek Wastewater Treatment Plant was renamed to honor Joseph C. Stowe Jr. at a dedication ceremony on June 14, 2019.