The Stowe Project will implement a regional wastewater management partnership between Charlotte Water and the Cities of Mount Holly and Belmont to streamline wastewater treatment services in our region. This partnership will replace two older wastewater treatment plants with the new modern, highly efficient wastewater treatment facility – the Stowe Regional Water Resource Recovery Facility.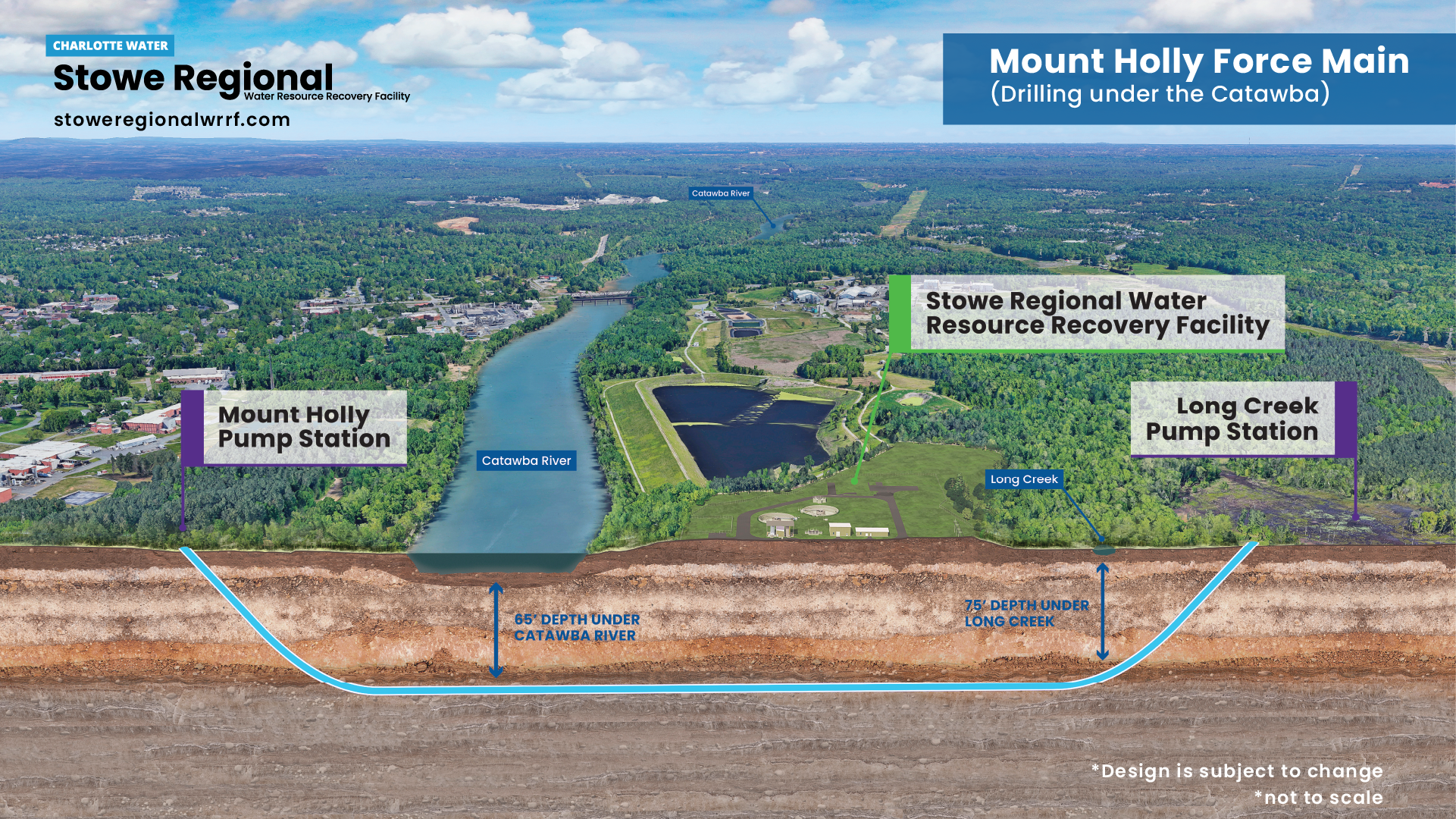 For Charlotte Water to provide wastewater treatment services, the Mount Holly and Belmont pump stations must be connected to the Charlotte Water collection and treatment system through waste water pipes, also known as force main pipes. These wastewater pipes will be installed in underground bedrock approximately 65 to 75 feet under the bottom of the Catawba River and Long Creek.
Wastewater pipes will be installed in three locations for this project:
One set will be installed under the Catawba River and Long Creek to link the Mount Holly Pump Station to the Long Creek Pump Station.

A second set will be installed under Long Creek that will connect the Long Creek Pump Station to the Stowe Facility.

A third set will be installed under a different section of the Catawba River to link the Belmont Pump Station with the Paw Creek Pump Station.
To install these wastewater pipes, our team will use a technique called horizontal directional drilling – or HDD. This is a construction technique where a tunnel is drilled into underground bedrock to form an underground tunnel pathway and then a pipeline is pulled through that tunnel.
Horizontal directional drilling is one of the safest ways to install a pipeline because there is minimal ground disturbance to the surface. HDD is an industry-preferred method for installing long pipelines under bodies of water and was selected specifically for this project following extensive construction methodology evaluations.
Learn more about horizontal directional drilling by participating in the Online Workshop.